Annual Convention
SMART 2022 Annual Convention
This year we are focusing on being "Together Again" and sharing and learning from one another for the first time in person since our 2019 Regional Meeting. We can't wait to see all of you face to face and celebrate the resiliency of the textile reuse and recycling industry while joining together again for great networking and educational opportunities.
Save the Date!
February 27-March 1, 2022
Orlando, Florida
2022 Annual Convention Registration
Convention Registration includes all sessions, receptions, breakfast, lunch and networking breaks.
Early Bird Registration Rates (before January 20, 2022)
Member Representative - $1200
Additional Member Representative - $1025
Regular Registration Rates (after January 20, 2022)
Member Representative - $1250
Additional Member Representative - $1075

Spouse Registration Rate (not in the industry)
Includes receptions only (Welcome & Closing) - $300

Click HERE to download the promo brochure.

Click HERE to register online.
*You must be a SMART member to register for the Annual Convention. If you are interested in joining SMART, please contact Casey Joseph at cjoseph@msp-amc.com.

Sponsorship Opportunities
SMART is offering members several sponsorship opportunities for the 2022 Annual Convention. Sponsorship of an event is an inexpensive way to market your businesss, gain new customers, and get in front of your target market and support SMART at the same time!

Click HERE to view the 2022 sponsorship opportunities.
Click HERE to sign up.

*All sponsorship commitments must be received by January 14, 2022
SMART 2022 Safety Guidelines
SMART is committed to hosting a safe in-person meeting. Attendees should be aware that, while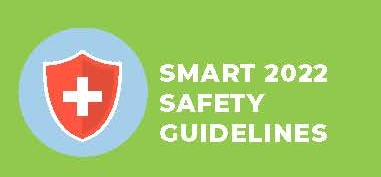 SMART will make every effort to reduce the risk of COVID-19 transmission on site, it is possible
that attendees will come in contact with people in airports, public transportation, hotels, and
around the Hyatt hotel who could potentially carry the virus, which is why SMART is requiring
attendees to be fully vaccinated for their own safety, as well as the safety of others.

As SMART continues to track the rate of COVID-19 transmission, these policies and safety
measures may be further modified based on the latest public health guidance from the
Centers for Disease Control and Prevention as well as local government requirements and
guidance. If safety measures are changed, they will be posted on the website and disseminated
to all attendees.
In order to attend this in-person event, you must comply with SMART's mandatory policies for the safety and well-being of all attendees. This policy includes a proof of vaccination requirement. Your registration fee will not be refunded due to non-compliance of safety policies.
Click HERE to provide proof of vaccination.