Textile Recycling Education Belongs in the Classroom!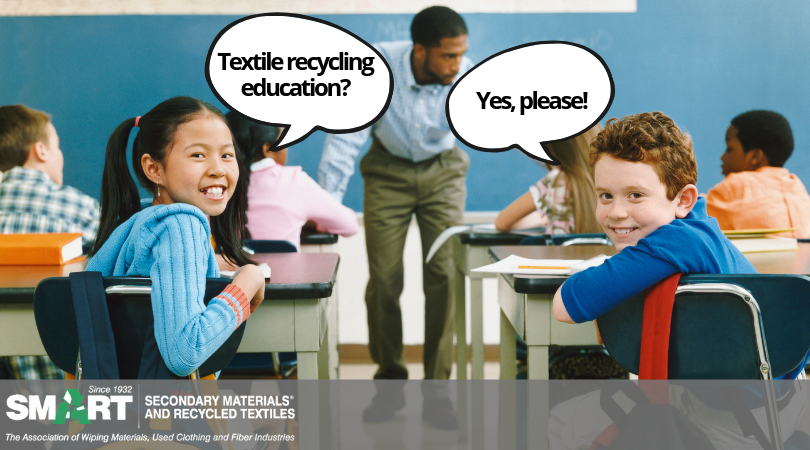 The 2019/2020 school year is upon us! At SMART, we have such an appreciation for teachers across the globe who take on the task of educating our young people. From reading and math to science and social studies, the school year is full of so many fun and interesting topics that are important for kiddos to learn about.
But what if we told you there's something else out there that's also super important for our young people to be aware of? That's right, folks – textile recycling! Students are familiar with recycling aluminum, paper, glass, and plastic, but do they know that clothing and other textiles can be recycled?
For those not aware, a textile is any item made of interwoven fabric – and, 95% of them that make it to our nation's landfills COULD have been recycled. Why is it important? By recycling old clothes, shoes, towels, stuffed animals and more, we save our planet from tons of harsh chemicals, waste products and wastewater created in the production of new textile goods. It also significantly reduces the emission of greenhouse gasses!
If you, or a teacher you know, might be interested in introducing textile recycling into your curriculum for the upcoming school year, SMART has organized a variety of resources to help make that as simple as possible. From lesson plans and worksheets to sample letters to send to parents and more, we've got you covered. For more information, or to access our materials, please visit https://www.smartasn.org/resources/for-schools/. We also invite you to learn more about textile reuse and recycling by connecting with us on LinkedIn, Facebook and Twitter!