Save Money (& the environment!) with Second-hand Costumes this Halloween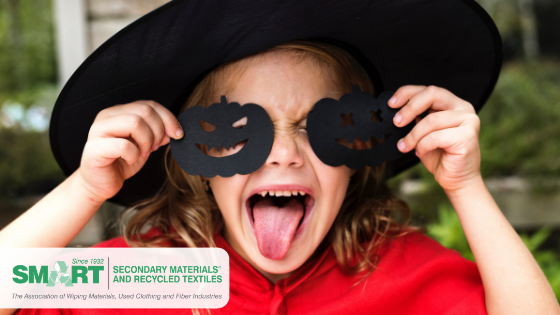 Boo! It's the time of year where we can step out of our comfort zones and transform ourselves into something we're not or have always wanted to be – at least for a day. From dressing up as our favorite pop-culture icons to ghoulish ghosts and characters from our favorite novels and movies, Halloween is a fabulous time to celebrate our creativity but, perhaps more importantly, how we choose to think about our textile consumption habits.
Did you know that 85 percent of clothing and textiles end up in a landfill where they negatively impact our environment, even though 95 percent of them can be reused or recycled? This Halloween, we ask you to think twice before going online or to your favorite costume shop to purchase a brand-new get-up and consider some of the more recycling-friendly alternatives like shopping at your neighborhood thrift store or rummaging through your closet to piece together a stellar costume out of the items you may already have.
It's simple, you see! That old white bed sheet you've been looking for something to do with? How about the classic ghost costume for yourself or your teen who decided last-minute that they're not too cool to dress up for Halloween? Old pair of slacks that don't fit any more? Fashion them into a superhero cape for your son or daughter like this one here. Need something for the toddler in your life? How about this cute tea bag idea made from an upcycled pillowcase?
Interested in shopping secondhand for your costume this year? Check out this awesome costume generator, courtesy of Good Will Industries. You can also find loads of great costume ideas by looking around on Pinterest – that's how we found this great blog from Refinery 29.
At SMART, we're all about improving our environment – one textile at a time! We invite you to learn more about our association and the work of our members here. You can also visit us on Facebook and Twitter for weekly craft ideas and other great articles and information to help get yourself up-to-speed on all things textile.