For the Love of Texitles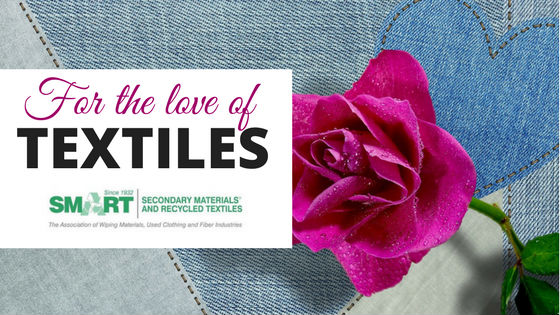 In the spirit of Valentine's Day, I am reflecting on the passion for our planet I witness on a daily basis from SMART's members and Board of Directors. When it comes to textile reuse and recycling, it takes more than a village – it necessitates a collective international effort, and I am proud to witness the positive impact being made by SMART members on the textile reuse and recycling industry.
One example of this dedication is SMART's incoming board member, Rick Wolf. Rick began his career in the wiping cloth industry with humble beginnings – after college, he started working on the loading docks at Mednik Wiping Materials Inc. in 1980. Mednik Wiping, founded in 1930, had been an early leader in the industry. There he developed the realization of what significant impact repurposing textiles has on reducing landfill waste. By repurposing items such as used clothing, mill ends and linen discards into wiping rags, these items take on a new life cycle.
Rick's industry interest and dedication led to his eventually becoming the owner of Mednik, which through acquisitions, grew to include not only Mednik Wiping Materials, but Riverbend Textiles and Cardinal Wiping Cloth Co. In 2015, Rick launched "Found by the Pound Vintage and Retro," a concept involving selling vintage clothing by the pound. He is a firm believer that we exist in a Circle Economy and strives to preach the "Green Initiative" to anyone who will listen.
It is amazing to watch Rick's expansion in textile recycling…a true testimony to what a love for secondhand textiles can accomplish! People like Rick have helped develop and revolutionize the world of textile reuse and recycling – SMART's goal since its inception in 1932.
Individuals, schools and companies can show their love for reuse and recycling by including textiles in their list of "recyclable items." To learn how you can help, check out our resources tab at www.smartasn.org.