Congrats, Grads!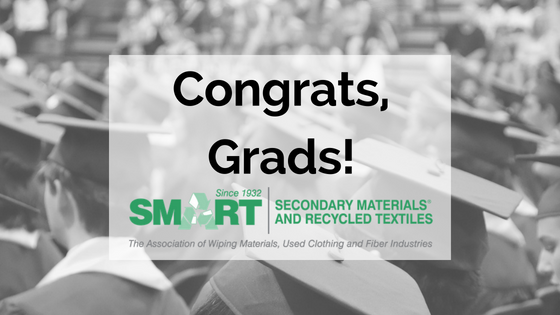 Today, as I sit at my desk during yet another rainy, overcast and gloomy day here in Maryland, my mind turns toward something a little more bright and exciting: graduation season.
There are many wonderful colleges and universities in close locale to SMART's headquarters here in Maryland. And, with many colleges and universities, come many dorm rooms and apartments. As the 2018 graduates prepare for their next steps – moving back home with mom and dad or forging a path of their own – I think about all the textiles (any material made of interlacing fibers) – that are left behind or improperly disposed of.
From bed sheets and linens, to boots, bras, coats and flip flops, it's important for our recent graduates to know that virtually ANY textile can be recycled or donated. While cleaning out your dorm room or apartment, be mindful of what you choose to throw away. Even if your textiles are worn, torn or stained, they can be recycled…just be certain they are clean, dry and odor-free.
Why is it so important to be mindful of our textile waste habits? Clothing and household textiles currently make up 6.3 percent of the waste stream or the equivalent of 81 pounds per person thrown away annually in the US. Out of this waste, 95 percent could have been recycled, yet only 15 percent actually gets donated or recycled.
For a comprehensive list of household (or dorm room and apartment) textiles out there that can be reused or repurposed, click here. I also invite you to check out some of our additional resources here, or visit our Facebook and Twitter pages for weekly textile recycling information.